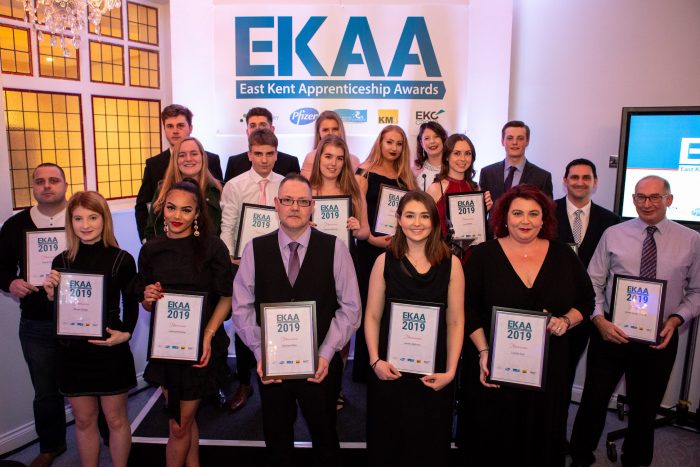 Paul Winter
East Kent Apprenticeship Champion of the Year
The overall winner works tirelessly to ensure that businesses have the right skills to ensure economic growth across our county.
He is very passionate about the apprenticeship route into employment and works with public and education sector businesses to ensure they have the necessary tools in place to offer high quality apprenticeships and that they have access to a pool of highly motivated individuals.
Our winner was equally keen to ensure apprentices have everything they need to succeed in the workplace, going into schools and colleges to promote apprenticeship opportunities to young people.
Our 2019 champion truly embodied everything the East Kent Apprenticeship Awards stands for.
Bodylines Salon
Business of the Year – Health and Beauty
Bodylines Salon has traded for 32 years, with trainees, apprentices and work experience students playing a vital part in the structure of the business.
This salon has taken on a new apprentice every year for the past four years across all areas of the business. They support their apprentices' learning by putting them through additional classes at the CND Kent Academy and offering regular appraisals to monitor progression.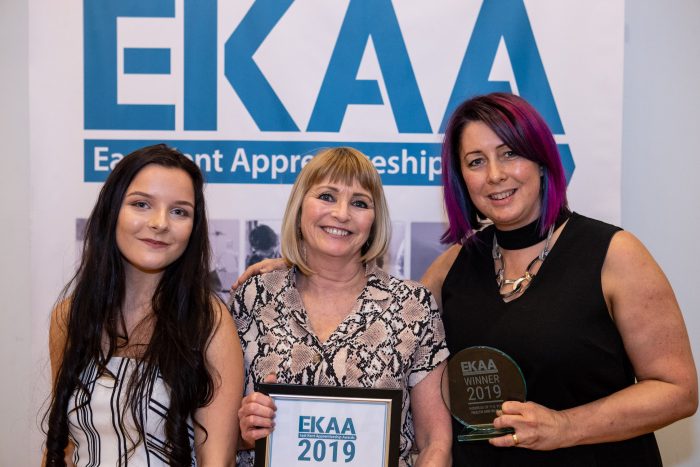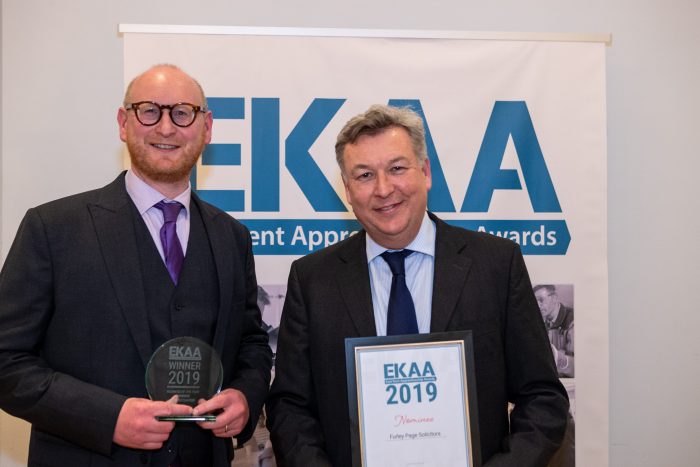 Furley Page Solicitors
Business of the Year – Business Administration
Canterbury-based solicitors, Furley Page, have been a keen supporter of apprenticeships for a number of years. They have built a strong relationship with local colleges in East Kent and currently have over 20 apprentices covering reception and offering admin support. The apprenticeship provides a springboard into further education or to undergo legal secretarial qualifications in-house.
The business places strong emphasis on developing its staff with a mixture of internal and external training to enhance the skills and knowledge of their apprentices.
The COOK Kitchen
Business of the Year – Hospitality and Retail
Based in Sittingbourne, this food manufacturer implements a strong communication and support structure which means the team is able to ensure that the apprentices get the most out of the experience.
The COOK Kitchen build strong relationships with their apprentices in order to share company values and provide relevant workplace experience with the view of permanent employment and progression.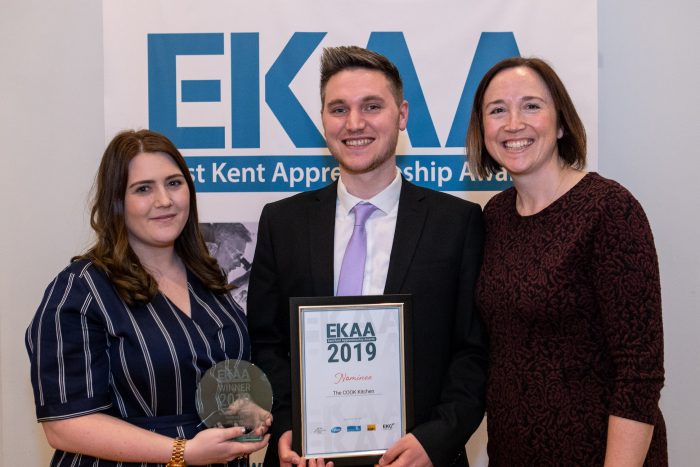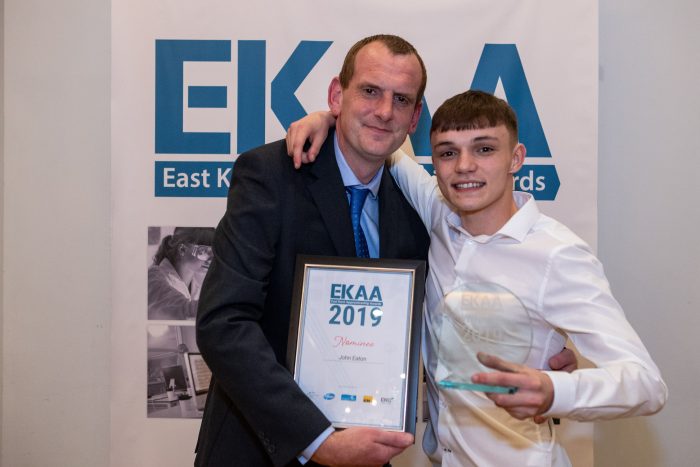 John Eaton
Business of the Year – Construction and Engineering 
Winner John Eaton is a fantastic example of an independent business engaging in apprenticeships, taking on two apprentices within the last six years.
The opportunities he offered truly transformed their lives. One of his apprentices started with no education and suffering from a severe drug addiction, but through the apprenticeship his life has turned around. He has gone above and beyond to help his apprentice achieve qualifications by home tutoring and giving him practical experience in painting and decorating.
East Kent Hospitals University NHS Foundation Trust
Public Sector Organisation of the Year
This organisation has been working in partnership with local colleges for a number of years to deliver a successful apprenticeship programme. It has grown from a pilot programme of eight apprentices to over 100 apprentices enrolled today. The organisation offers opportunities in a range of positions including laboratory technicians, healthcare assistants and pharmacists.
Over 93% of apprentices secure permanent employment after they have completed their learning. The organisation has a firm strategy of "growing their own" with apprentices being a key part of workforce development and succession planning.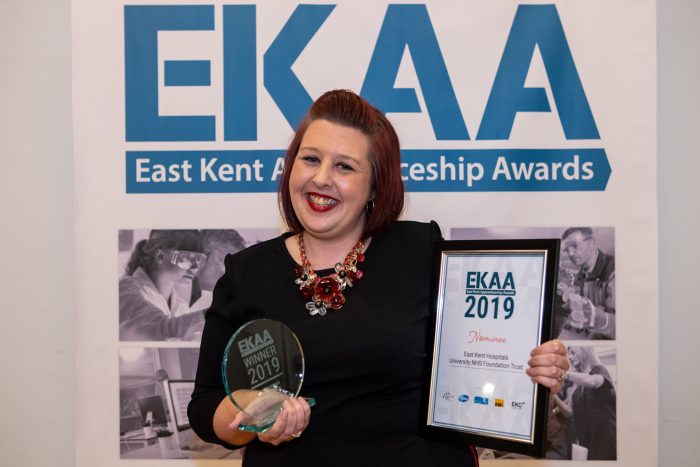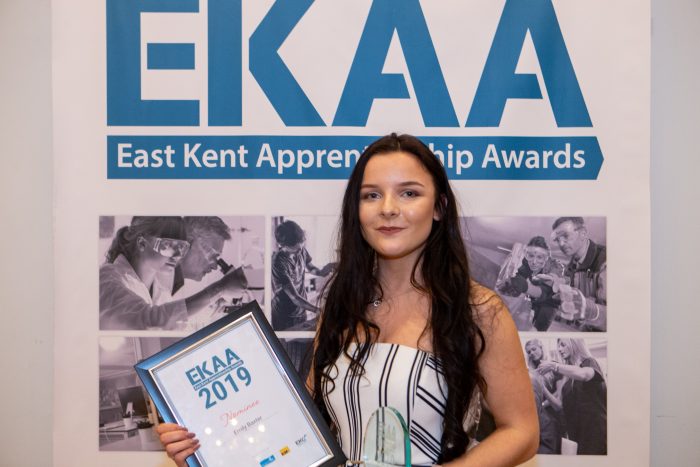 Emily Baxter
Apprentice of the Year – Health and Beauty
Progressing from a Saturday girl to completing her Level 2 beauty diploma, Emily Baxter, is now working towards her Level 2 Hairdressing qualification.
She was recognised for her incredible work ethic and enthusiasm in everything she does. Through her hard work and conscientious attitude, she has quickly grown her client book and become a very important part of the team.
Taryn Nanjiani
Apprentice of the Year – Business Administration
Taryn was nominated for her strong work ethic, an incredible willingness to learn and high standards throughout her apprenticeship.
She was nominated to be the Chair of the Apprentice Network, which helps to give fellow apprentices the chance to have their say. She embraced every possible opportunity to learn and enhance her personal and technical skills. In light of her work, she secured a permanent position on the completion of the apprenticeship.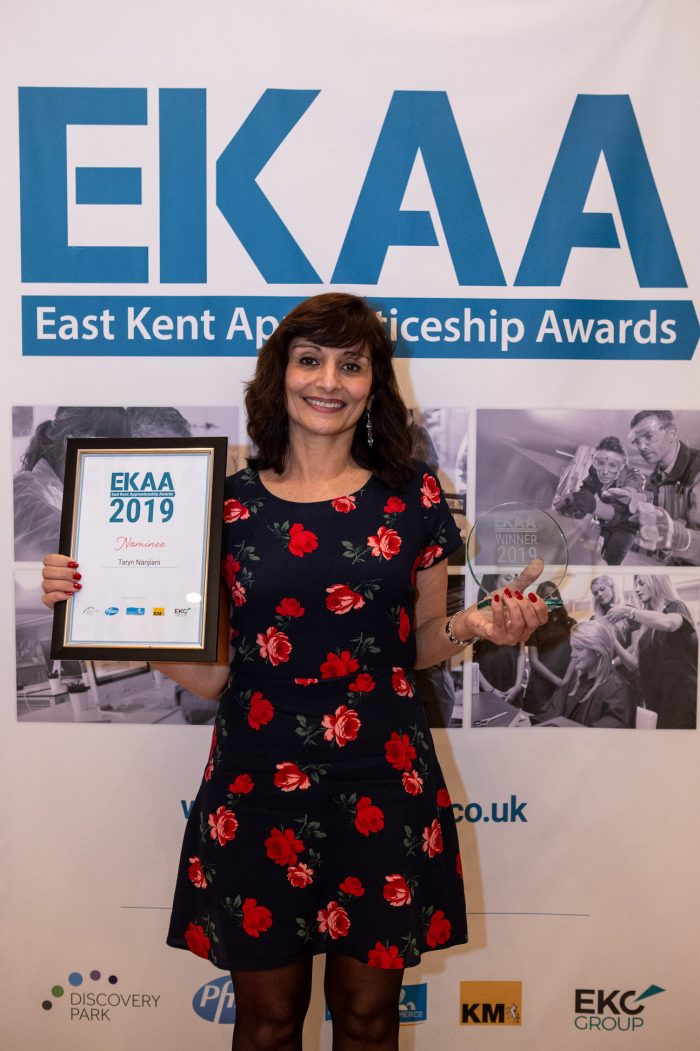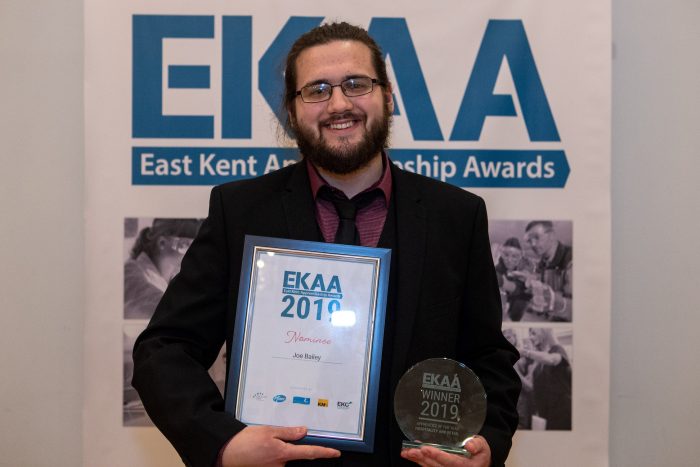 Joe Bailey
Apprentice of the Year – Hospitality and Retail
A very diligent student, Joe showed full commitment to both personal and professional development. Despite having never done catering before, he showed a great work ethic and willingness to learn and extend skills beyond the normal work environment.
At both work and college, he had an exemplary attendance and punctuality record.
Tommy Tyrer
Apprentice of the Year – Construction and Engineering
This winner showed how through hard work and apprenticeships young people can turn their lives around. Having been thrown out of school with no qualifications and suffering from drug addiction, Tommy began working towards a painting and decorating apprenticeship. Not only did he manage to beat his drug addiction, he achieved his Level 2 Painting and Decorating diploma and gained hands-on experience.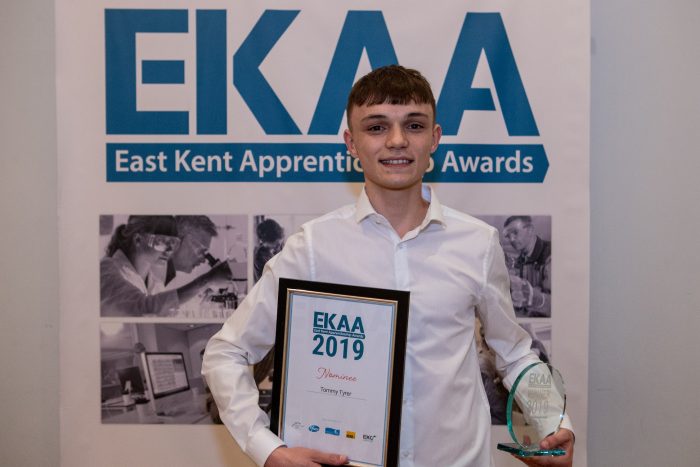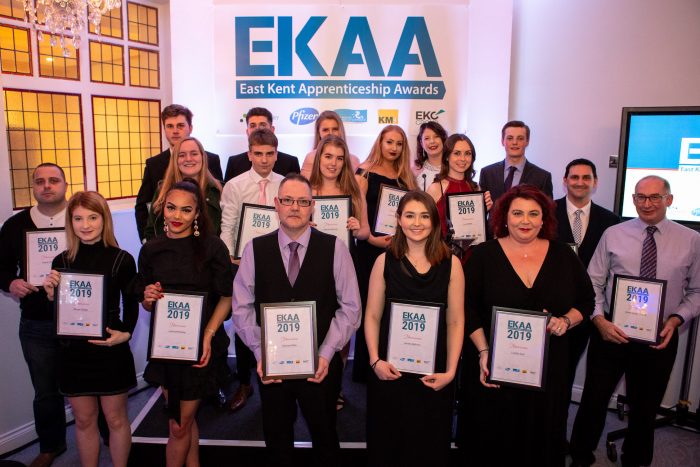 James Mills
Apprentice of the Year – Science and Manufacturing
Throughout his three year apprenticeship, this winner progressed from a Level 3 to a Level 6 apprentice in science and worked towards his BSc in Chemistry. Everyone that worked with him was deeply impressed by his maturity, which manifested itself in both in his work ethos and the quality of his scientific data.
He gained scientific knowledge and experience that would take many people over ten years to gain. A valuable member of the scientific community, he was always ready to embrace new challenges and has actively sought out mentorship in new technical areas to gain a wider understanding.
Sotiris King
Apprentice of the Year in the Public Sector
Since embarking on his apprenticeship programme, Sotiris demonstrated a high level of commitment to both his college work and his job. He produced work to a high standard – demonstrating an understanding of the tasks to be completed and showed a good deal of research.
He helped his department to improve their practices and never shied away from challenges. He was also chosen because he is an extremely polite and professional young man that has a positive attitude of always wanting to improve.