A huge congratulations to all of our finalists and winners this year. We hope you all thoroughly enjoyed the Gala Dinner and are proud of your contributions to East Kent.
Here's a little bit about our winners: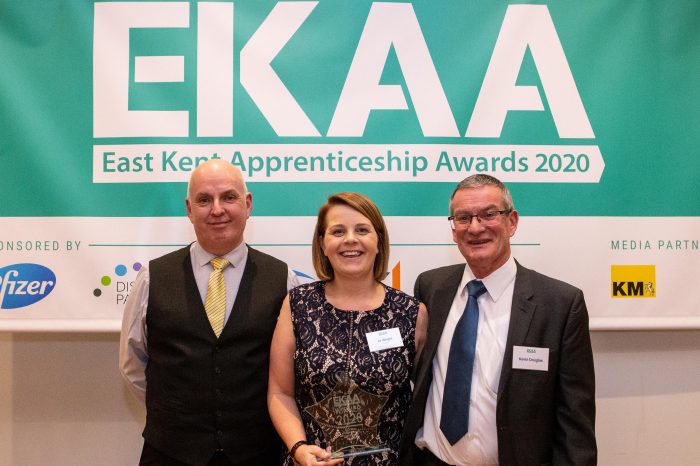 Jo Wright
East Kent Apprenticeship Champion of the Year
Described as instrumental in creating Eurotunnel's first apprenticeship scheme, overall winner Jo works tirelessly to promote apprenticeships. Creating a bespoke scheme from scratch that complimented both apprentices and the company, Jo planned and delivered this with Dover Technical College.
After 12 months of hard work, 10 new apprentices began in September 2019. With excellent feedback, Jo is pushing for the next intake and is working with local schools to raise awareness of apprenticeships opportunities within Eurotunnel.
Brooke Williams
Apprentice of the Year – Business Administration
Over the 18 months that Brooke has been a Business Apprentice at Faversham Town Council, she has become a strong advocate for the young people of the town. Leading the formation of a Youth Council and organising a number of events, such as an Open Mic Night for under 18s.
Not only this, Brooke has contributed to the Youth Working Group alongside running a weekly Youth Café pilot and organising a schedule of events for 2020. With excellent feedback from assessors and the completion of her Level 2 Introduction to Local Council Administration, Brooke is described as an important member of the team and has since been offered a permanent position on the completion of her apprenticeship.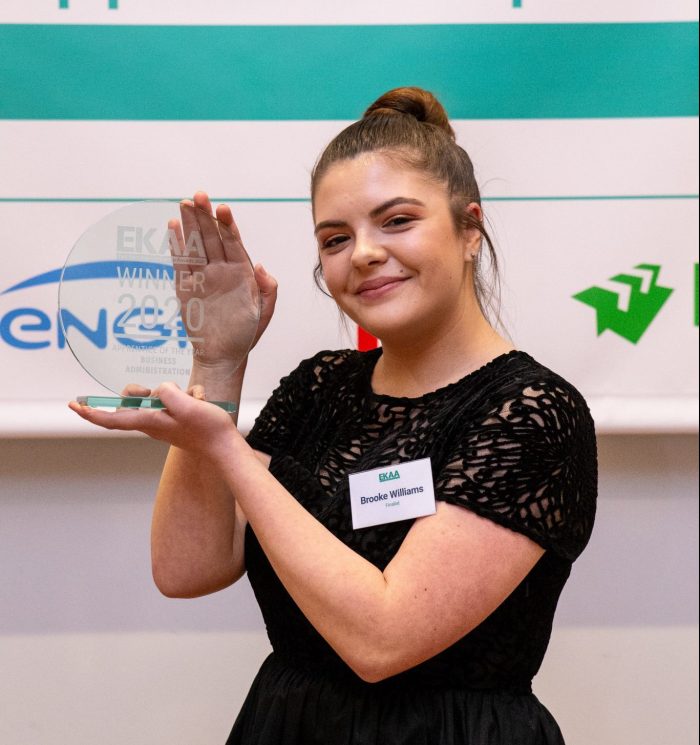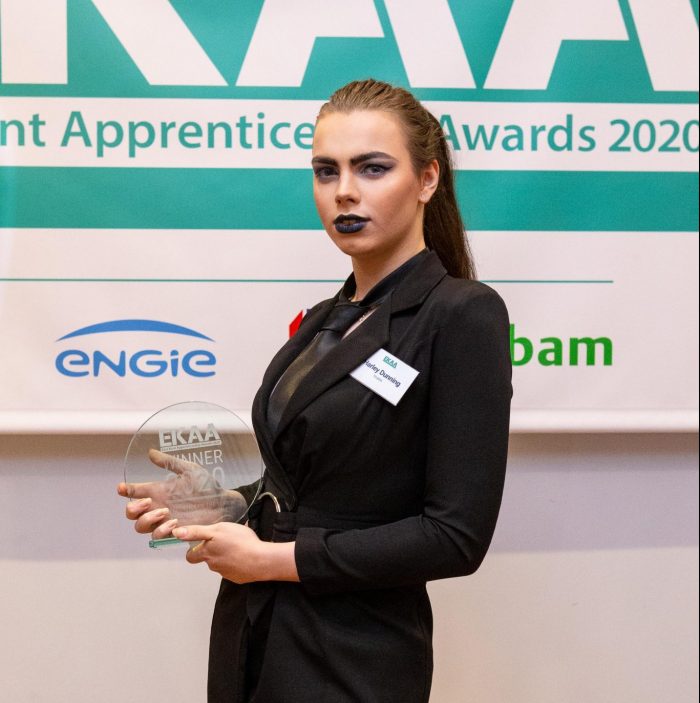 Harley Dunning
Apprentice of the Year – Creative and Digital 
With two glowing nominations, Harley, was recognised for her work at Dover District Council. Starting her apprenticeship at 17, she has since played a key role in their largest digital transformation project, including a smooth roll out to over 250 employees and assisting colleagues in what has been explained as a major period of change.
Feedback from over 30 training sessions hosted by Harley, including to the executive team and Chief Executive, have been extremely positive. Impressed by her diligence, one of her nominators has described her as a very talented and special individual who deserves recognition for her hard work.
Laura Stroud
Apprentice of the Year – Hospitality and Retail 
After joining the Royal Hotel four years ago, mum-of-two Laura, has since been promoted to Assistant Manager and when the company's apprenticeship programme launched last August, Laura was invited to take part.
It is clear that Laura's potential has been nurtured through these opportunities, with both tutors and colleagues impressed by her dedication and commitment to studies and clear passion for the profession. She is keen to share her learnings and implement them into operations. Laura is a great role model and demonstrates that you can undertake an apprenticeship at any stage of life and has been described as a fantastic ambassador for the hotels group owner, Shepherd Neame.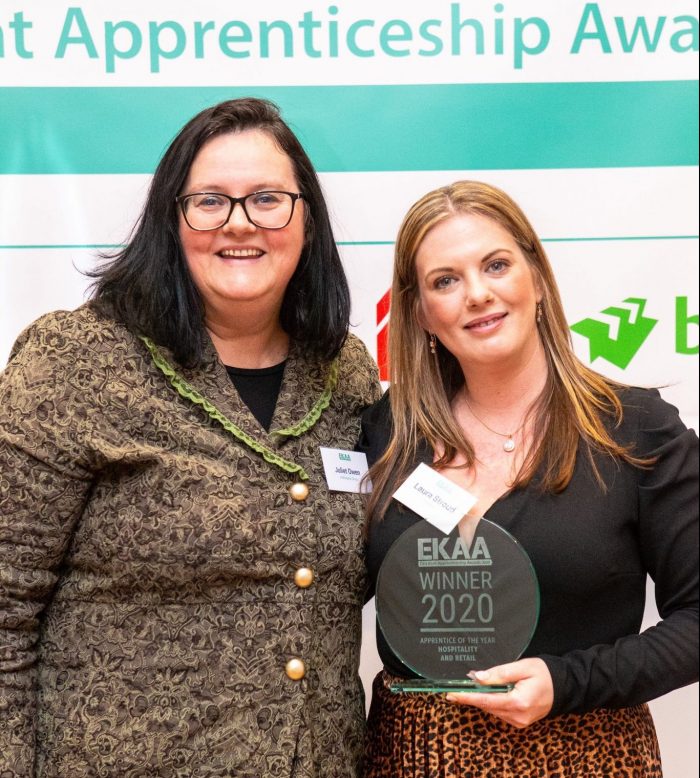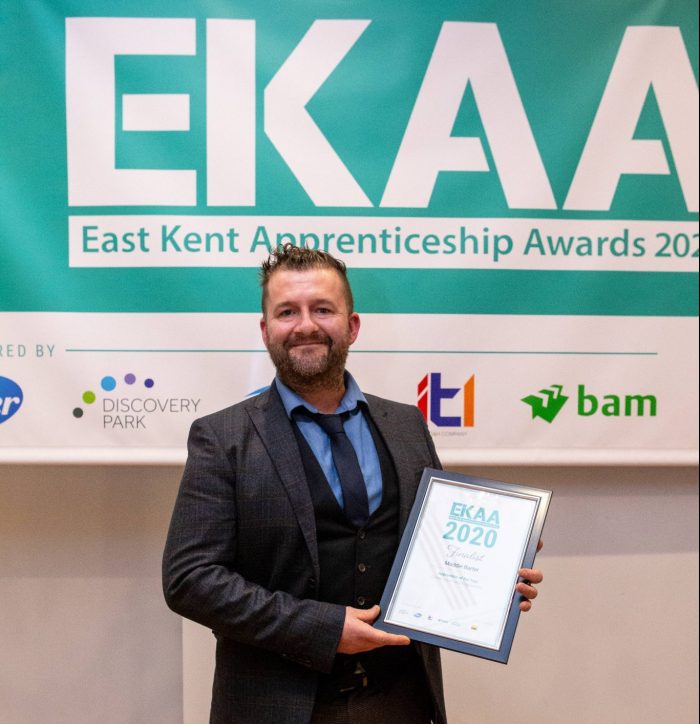 Maddie Barter
Apprentice of the Year – Construction and Engineering 
Maddie began her career training as a vet and switched to become an apprentice plumber. Demonstrating determination and a will to succeed she was offered a highly sought after role at Kent and Canterbury Hospital 2gether Support Solutions. She has been nominated because of her impressive academic and practical skills, achieving 95% in a recent exam; Coupled with the positive effect she has on the team she works with, Maddie is a real find.
(Collected on behalf of Maddie)
Chloe White
Apprentice of the Year – STEM
Whilst studying for a degree in Chemistry at the University of Greenwich, Chloe is also completing her Level 6 apprenticeship. Throughout the two years with her current employer, the team have watched her blossom from a hesitant new starter to a competent and inquisitive scientist.
She has received a glowing nomination with particular mention of her detailed presentation manner that rivals any of her colleagues, regardless of experience level. Warm-natured and full of ideas to progress the business, Chloe has clearly shown her aptitude as a bright scientist with an appetite for knowledge. Chloe personifies the value of Apprenticeships.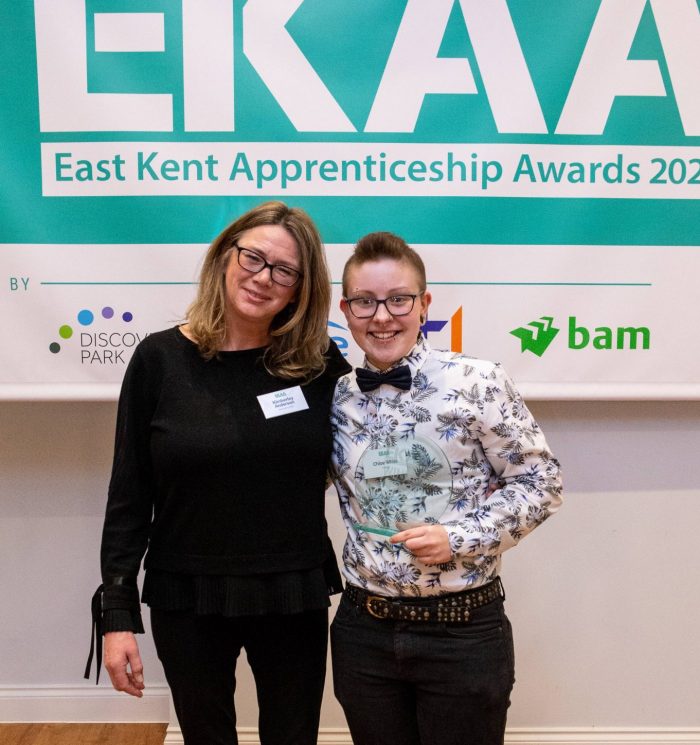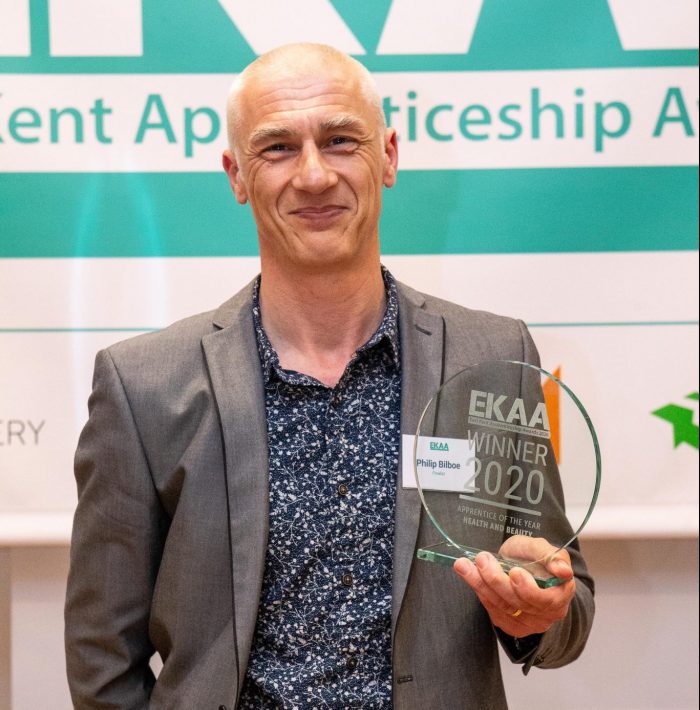 Philip Bilboe
Apprentice of the Year – Health and Beauty
In 2019, Philip began his Level 3 Senior Healthcare worker apprenticeship at the William Harvey Hospital. A hard worker, with a passionate and consistent approach, he has been nominated because of his value to the team.
Philip is completing maths and English courses alongside his healthcare qualifications and sees apprenticeships as an opportunity to support his development as a therapies practitioner. Epitomising what the East Kent Hospitals NHS Foundation Trust would expect of their staff in approach, knowledge and exemplary conduct, he has been called a 'positive influence' and a 'pleasure to work with.'
East Kent Hospitals Apprenticeship Team
Public Sector Organisation of the Year
The East Kent Hospitals University Foundation Trust apprentice team work and deliver within in a diverse organisation and have been nominated for their outstanding work. Their nominee has said they're amazed by the unquestionable energy, passion and inspirational approach of the whole team.
In 2019 they supported ten new apprentices in the therapies department. Their consistent drive for improvement and their tenacity to ensure the training is provided, means that the whole organisation benefits and in turn so does the healthcare services provided to East Kent.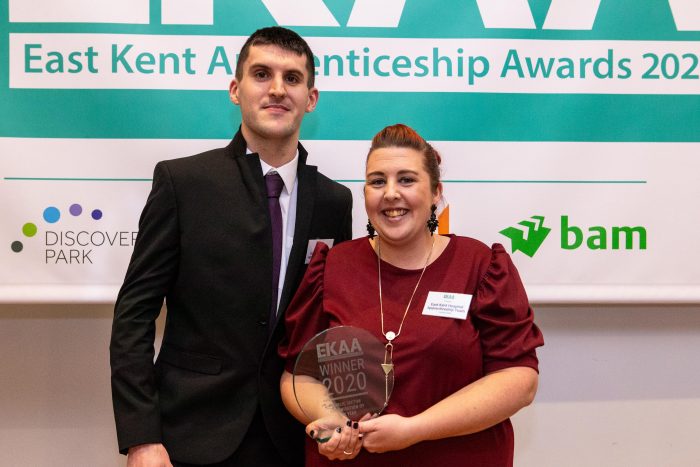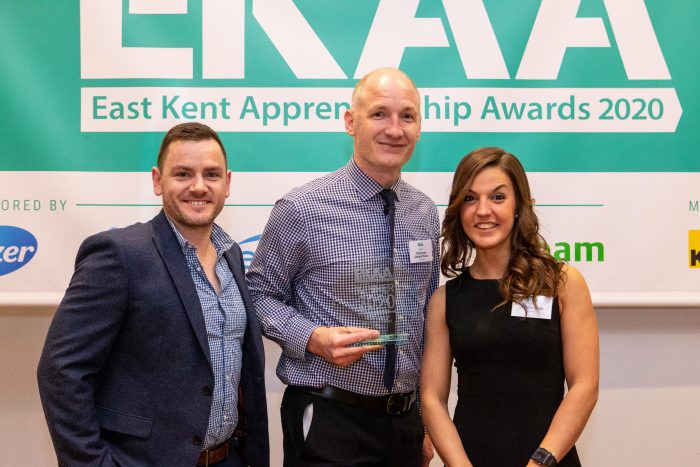 Champneys Eastwell Manor
Private Sector Organisation of the Year
Across 2019, Champneys at Eastwell Manor have had six front of house apprentices and have relished the opportunity to develop their employees. The hotel fully supports the external training consultants and work closely with their learners to progress them within their qualifications.
They have been praised for their adaptive style and passion and being a pleasure to work alongside. Their active and engaged approach to developing each learner and knowledge on each individuals progression is another factor marking out this exciting leisure business.